16 Oct 2017
Congress Kicks Off Tax Reform Discussion
After months of speculation, Congressional leadership and President Trump released their tax reform proposal in late September. More information can be found here. The proposal aims to provide guidance as Congress begins the tax reform process. According to the President and Congressional leaders, the proposal has four goals: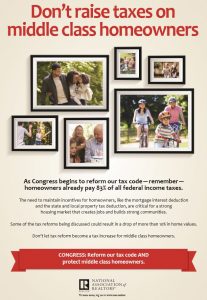 make the tax code simple, fair and easy to understand
give American workers a pay raise by allowing them to keep more of their hard-earned paychecks
make America the jobs magnet of the world by leveling the playing field for American businesses and workers
bring back trillions of dollars that are currently kept offshore to reinvest in the American economy.
As you might imagine, there are perceived/potential winners and losers with the changes proposed. While a number of national business organizations have come out in support of the framework, the National Association of REALTORS® have kicked off a multimillion dollar advertising campaign to express their concerns with the proposal–due to the impact on the mortgage interest deduction. Based on an analysis by NAR and PricewaterhouseCoopers, housing prices could fall 10% if the tax reform package is enacted as proposed.
We will continue to track this critical issue as it moves forward.